Finding relief for sinus conditions through strategic endoscopic surgery
Blocked sinus pathways caused by polyps, bacteria, scar tissue, or damaged nasal structures can interfere with your daily activities, making it difficult to concentrate, sleep or perform work duties. Often these types of obstructions do not respond to medications or minimally invasive procedures, in which case endoscopic sinus surgery may be warranted. Dr. Zadeh performs cutting-edge sinus surgery in Los Angeles to help improve your breathing as well as your quality of life.
What is
endoscopic sinus surgery?
Blockages in the sinuses can lead to sinusitis, a condition in which the mucus membranes of the sinuses become inflamed and swollen, causing pain, pressure, and impaired breathing. Sinusitis that persists for three months or more is considered chronic.
The most common procedure for the treatment of chronic sinusitis is endoscopic sinus surgery. This procedure is performed to unblock the sinuses when drug therapy is not effective or when sinusitis complications exist, such as structural abnormalities, the spread of infection into the eye, or fungal sinusitis.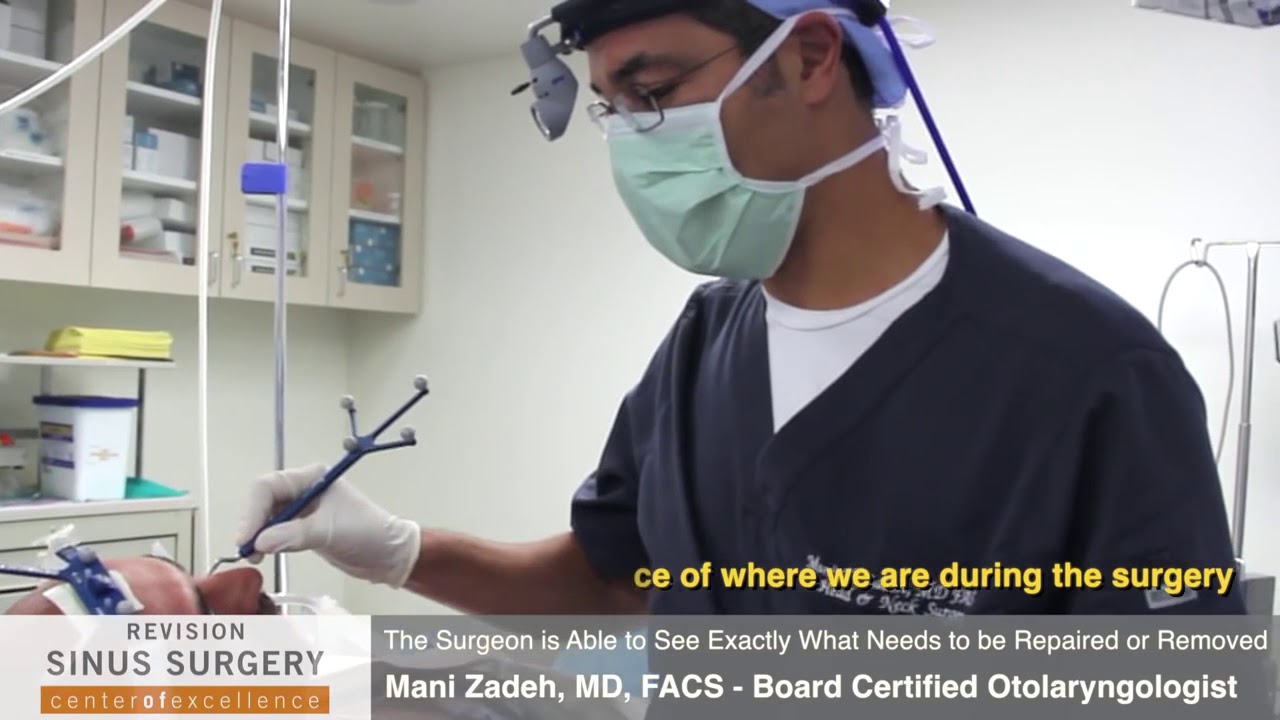 How is
endoscopic sinus surgery performed?
In endoscopic sinus surgery, fiber-optic surgical techniques are utilized to open the natural drainage areas of the sinuses and to remove polyps, if any are present. Endoscopic sinus surgery unblocks obstructions, allowing ventilation and drainage. This provides relief from sinus headaches and congestion, improves nasal breathing, and often enhances the patient's sense of smell.
The goals of endoscopic sinus surgery include:
Reduction of the number and severity of sinus infections
Improvement of symptoms associated with sinusitis
Improvement of airflow through the nose
Improvement of the patient's sense of smell
What is Dr. Zadeh's

approach to surgery?
At Los Angeles Sinus Institute, Dr. Zadeh uses CT imaging and computers intraoperatively to minimize risk. Intraoperative CT guidance, or computer-aided surgery, allows Dr. Zadeh to not only view the "live images" of the procedure but also, at the same time, to have a real-time, three-dimensional CAT scan image of the area being operated on. Intraoperative image-guidance provides important anatomic information, allowing better insight into the operative field, decreasing the risks, and improving the results of surgery.
What are the benefits
of sinus surgery?
For individuals suffering from chronic sinusitis, image-guided endoscopic sinus surgery in Los Angeles can have a number of benefits, including:
Fewer sinus infections and sinus headaches
Less pressure and facial pain
Widened airways for easier administration of medications
Improved quality of life
If you are suffering from chronic sinusitis, schedule an initial consultation at Los Angeles Sinus Institute. Taking all medical therapies and surgical techniques into consideration, Dr. Zadeh can determine if endoscopic sinus surgery is the most effective and appropriate treatment option for you.
Here are 5 important
benefits of sinus surgery:
Helps prevent future sinus infections – Chronic sinus infections can diminish your quality of life over time. With surgery, your breathing will improve and you will finally be free from nasal pressure, a runny nose and recurring headaches.
Improved sense of smell – Sinus surgery can help restore your enjoyment of daily living. Our sense of smell is inextricably linked to emotion, so when we can't breathe properly, we may feel depressed and anxious.
Diminished facial pain – The pain associated with sinusitis can be tremendous. You may feel pressure on the roof of the mouth, at the bridge of the nose, in the teeth, or covering the entire face. Sinus surgery can help relieve these symptoms so you can concentrate on what really matters: living your best life.
Clears a pathway for sprays and rinses to be more effective – If sinus inflammation does flare up from time to time after your surgery, you will be able to treat it more effectively. Surgery can help widen the nasal pathways so that medications can better reach the lining of the sinuses.
Improved sleep – Sinus headaches can keep you awake at night, leading to chronic exhaustion and fatigue. Sinus surgery can help you to get enough oxygen and to rest better at night so you can be more alert and productive with your time.
Who makes a good candidate for endoscopic sinus surgery?
If your sinus problems are chronic and not just occasional, you may be suffering from nasal blockages such as polyps or structural anomalies that are making it difficult to breathe and sleep. Unlike medications and other non-invasive techniques, endoscopic sinus surgery in Los Angeles can help get to the root cause of your pain, permanently clearing away nasal debris so you can regain your quality of life.
Dr. Zadeh will perform an in-depth evaluation of your nose during your private Los Angeles consultation, at which time he will make his best recommendations for a personalized treatment plan that resolves all your breathing concerns.
What can I expect from

my Recovery

This surgery is performed under general anesthesia, and you will sleep through it. Immediately after the surgery, you will spend a few hours in the recovery room while the anesthesia wears off until you are fully awake and feeling well enough to go home.

There will be red-colored drainage from your nose after the surgery. In the first few days, you can expect the amount of drainage to decrease and the color to become lighter, although you may have blood-tinged drainage for 10 to 14 days.
You may have a feeling of congestion and fullness in your sinuses because of temporary swelling of the tissues in the nasal cavity resulting from the surgery. Sleep with your head elevated higher than your heart to assist in reducing swelling.
Do not blow your nose for 14 days after the surgery. (You may gently sniff back nasal secretions.) After your first post-operative visit, you will begin saltwater nasal flushes with a solution we prescribe for you. Sneeze with your mouth open, and do not hold back a sneeze.
Avoid all strenuous activity for 2 weeks after the surgery. Do not bend over, lift objects weighing more than 20 lbs, or perform jogging, aerobics, swimming, exercising, or contact sports. Walking for moderate exercise is acceptable. Do not smoke, and avoid secondhand smoke or any other irritating fumes.
What is the cost
of endoscopic sinus surgery in Los Angeles?
When sinus surgery is medically necessary, it may be covered by your insurance carrier. We can help you to file a claim. If your insurance does not cover the procedure, we can assist you in securing financing from trusted healthcare lenders so that you can improve your breathing as soon as possible. During your consultation, we will provide you with an in-depth quote for services that include facility fees, surgeon's fee, anesthesia fees, and recovery fees. While endoscopic sinus surgery may be more costly than other methods of pain relief, it can lead to lasting changes that improve your well being, mood, and productivity.
Dr. Zadeh is one of the most trusted Ear, Nose, and Throat specialists in Los Angeles, having garnered a reputation for excellence, compassion, and integrity, along with a technologically advanced surgical approach. After graduating from UCLA with honors, Dr. Zadeh received his medical degree from the University of California at San Diego. He completed a general surgery internship as well as a residency in otolaryngology at the elite Columbia University in New York City.
Patient Testimonial
If there was a possible 10 stars, I would give Dr. Zadeh a 10!! Dr. Zadeh has got to be the best ENT I have ever encountered hands down!! I suffered for 3 years with sinus infections and after medication (steroids and antibiotics) failed numerous times I decided to go through with Endoscopic sinus surgery. I was very hesitant about surgery and had a fear of going under as it was my 1st time. I got 3 different opinions and chose Dr. Zadeh because he is very caring, kind, personable, very knowledgeable and trust-worthy! My surgery went well and recovery was smooth. He did such a clean job; my family couldn't even tell I had surgery. All the girls at his office are great too! Very professional team with outstanding customer service. :) Thank You Dr. Zadeh for everything! You are truly gifted by God :)
– Diana D.
Endoscopic Sinus Surgery FAQs